Slogans on state (or provincial) license plates are sometimes incorrect (ie Wisconsin is no longer America's Dairyland... California is) or just plain odd (The Show Me State? What does that even mean, Missouri?) but in the case of British Columbia, it hits the nail on the head. I have seen the beauty of the province in previous trips to Vancouver Island, Banff, Jasper and the city of Vancouver but the northern Rockies don't take a back seat to any of those places.
The Alaska Highway meanders back and forth between Yukon and British Columbia as it makes its way east. There is wood bison along the side of the road and, of course, the opportunity to see other wildlife. My plan was to take it easy today and leave plenty of time to soak in the famous Liard Hot Springs.
I saw a sign for Smith River Falls and decided to check it out. The road was unpaved but I have driven plenty of those this trip so I was undaunted. Turns out, I should have been a little daunted. I am actually kind of surprised that they advertise this scenic area along the highway because I'm pretty sure most people wouldn't want to drive that road and, once they commit, it's hard to turn around and change your mind.. It's not that it was unsafe (except maybe for your vehicle), it was just so poorly (or not at all) maintained and there were huge potholes and even a couple of trees down across the 'road'. The 2 km jaunt took about 20 minutes but I eventually was rewarded with a pretty view of a good sized waterfall.
I was even more ready for a soak in the hot springs now and luckily, they were just down the road. I paid my $5 day use fee, changed into my swimming suit in the van, and started down the 10-minute walk on a boardwalk built over the warm water swamp and boreal forest that supports rich and diverse plant communities as well as mammal and bird species. Liard Hot Springs is the second largest thermal springs in Canada with water around 108 degrees Fahrenheit. It felt delightful to soak for an hour or so and invigorated me for a little more driving. I saw a couple of moose wading through the warm water on the way back on the boardwalk and I'm sure this is a very popular place for wildlife in the winter.
I took my time going through the western part of the Northern Rockies enjoying a few short hikes and appreciating the beauty of Muncho Lake. I decided to stop for the night in Toad River and found an awesome boondocking site right on the river. Perfect place to watch for the lights. The sky was clear as darkness fell but a few clouds started to creep in around midnight. I wasn't going to give up and I am glad I didn't! I got treated to a show (not as grand as the last one) that was enhanced by the clouds in that they added interest to the photos.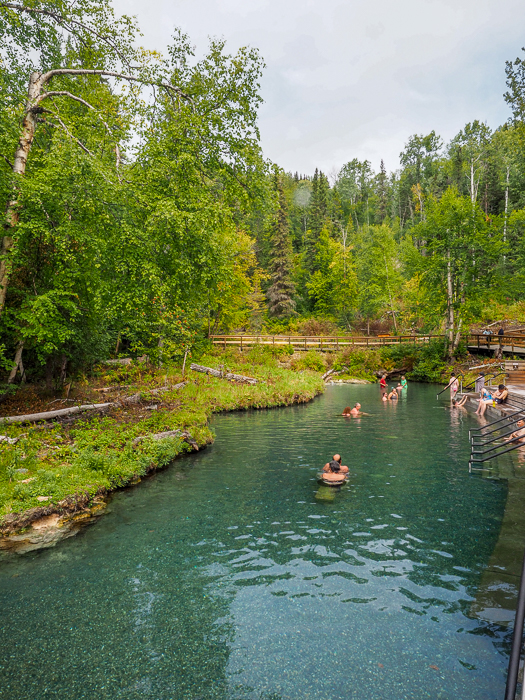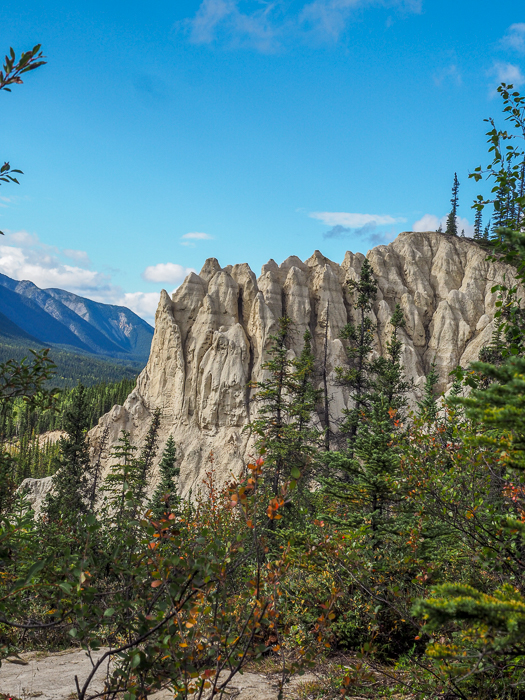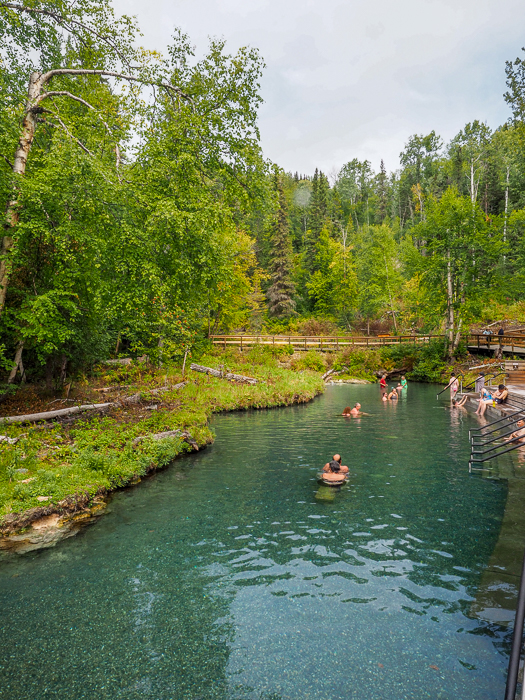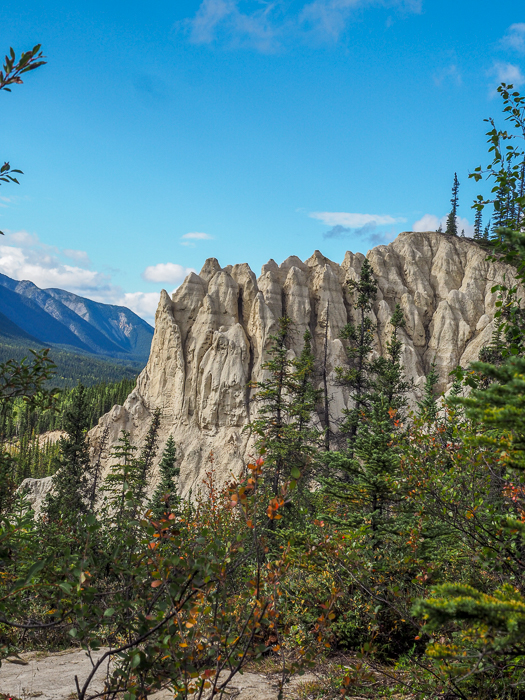 I slept in a bit after staying up late to see the lights and then had a good breakfast at the Toad River Lodge. It is Labor Day weekend here in Canada, too, so there are a lot of people out enjoying the beautiful nature of the Northern Rockies. I was planning a pretty long day of driving because I wanted to get to Fort St. John by nightfall but got a little sidetracked by some stone sheep along the side of the road and then spent some time at the Fort Nelson visitor center getting caught up on my blog. I paid the day fee ($5) to use the showers at their community recreation center and was amazed at the facility. It looks really new and has a huge swimming pool with a water slide that would rival one at Noah's Ark!
Made it to Fort St. John after dark and didn't like seeing the oil refineries along the way. I guess I am getting back to civilization :( Tomorrow I will finish driving the Alaska Highway as Mile 0 is in Dawson Creek - only about 50 miles into my day's drive.
Fortunately, I have the Canadian Rockies parks in my sights again - I'm not ready to be done with mountains just yet!